Registered Index Linked Annuity (RILA)
What is a RILA (Registered Index Linked Annuity)?
Registered Index Linked Annuities, or RILA's, were created as a "middle ground" or "hybrid annuity". RILA's provide exposure to a published stock market index along with a level of protection from market loss. While this kind of annuity tracks the movement of an index, it does not directly invest in any stock or equity vehicle. 
Because you assume some of the risks of loss from market downturns, a registered index-linked annuity may allow for greater growth potential than a fixed annuity or fixed index annuity.
Note: You may see or hear a Registered Index Linked Annuity referred to as:
RILA
Hybrid Annuity
Structured Annuity
Buffered Annuity
What is Your "Comfort Zone"?
How much risk are you willing to take to grow your retirement nest egg? 
Selecting a product with the right blend of risk and potential can increase your confidence in your retirement income plan, which will make it easier to stay the course along the way.
How Does a Registered Index Linked Annuity Work?
As you prepare for retirement, you may find yourself seeking a balance of growth and protection. A registered index linked annuity offers indexed strategies that let you take advantage of positive market performance while providing a level of protection against market downturns.
When index performance is positive during a term, strategies earn a return, up to a cap. When index performance is negative during a term, strategies may lose value, limited by either a buffer or a floor.
Some Insurers issue RILA's that offer both floor and bucket strategies while some insurer only offers one or the other options.
Protects against index losses in excess of -10%
It may be a fit if you're seeking protection against major market downturns, which are more common during bear market cycles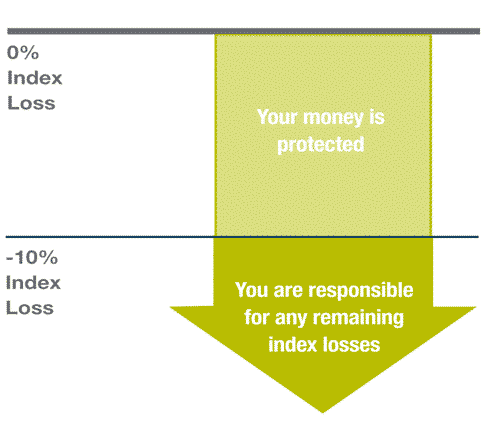 Protects against the first 10% of index losses
It may be a fit if you're seeking protection against minor market downturns, which are more common during bull market cycles
Types of Annuities Comparison Table
There's no one-size-fits-all approach to retirement planning. That's why there's a broad range of annuities available to help meet your unique financial needs. The table below is designed to help compare the key features of each type of available annuity.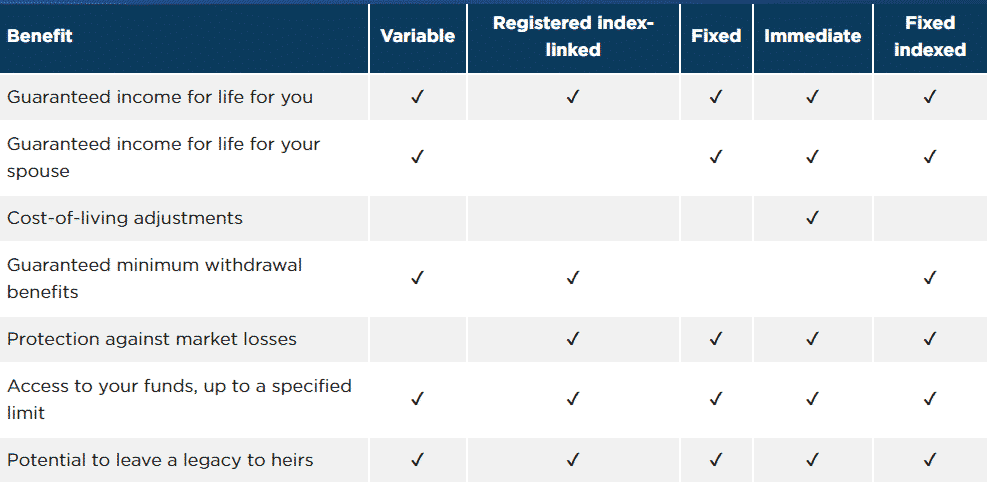 Annuity Companies that Offer Registered Index Linked Annuities
Cuna Member Zone
Great American Index Frontier
Nationwide Defined Protection Annuity
Lincoln Level Advantage
I had very positive end-to-end experience with My Annuity Store. They were very transparent about various options I had, and did their best to explain the rather complicated terminology in different annuity schemes. It was very satisfactory collaboration till the end.. Thanks!
The annuity store has done a great job helping me understand the best fixed index annuities. They are very professional and timely in their communications. Service has been excellent. I do not hesitate to do further business with them.
The folks at My Annuity Store are very professional, knowledgeable, and responsive. They responded to all my inquires which were quite numerous with very comprehensive and understandable explanations. One very important aspect with my working relationship with the company is that they are not high pressure sales persons which I found to be the case with several other firms that I had contacted for information regarding annuities.
I made a mid-life career change and was looking for a way to roll over my 401K into something safe. I stumbled upon Myannuitystore.com and am glad I did. Kiara was great and the electronic application was quick and simple.